Making It Rain is a lead generation program. It delivers leads to eXp Realty agents and brokers by launching advertising campaigns on their behalf. It drives the traffic generated by the ad campaign to the agent's KVCore website.
Google AdWords
One advertising medium Making It Rain specializes in is Google AdWords. Using this medium, YOUR KVCore site is placed in the top 3 search results of a potential lead's Google search.
To run an effective Google ad, Making It Rain targets keywords which are actively searched daily. You don't have to figure out what those keywords are. Making It Rain selects the keywords for you so that your ad appears in the top 3 ad spots.
Examples of the keywords used in the ad might be…
Cypress TX Homes For Sale
Homes For Sale in Spring TX
Waterfront Homes For Sale on Lake Conroe
Homes for Sale in The Woodlands
Katy Realtor
Golf Course Homes For Sale in The Woodlands
Golf Course Homes For Sale in The Woodlands
Luxury Homes for Sale in Houston TX
Making It Rain also targets the geographic locations you choose to target. Some of the areas that you can target include cities, towns, neighborhoods, and counties.
Example of those ads appearing as in the Google AdWord Campaign is shown below…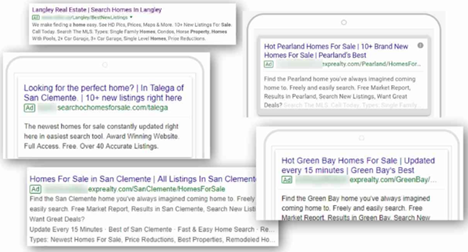 Buyer Ad or Seller Ad
You can also place ads that specifically target potential buyer or seller clients.
An ad searching for potential sellers would direct the potential lead to a property evaluation page on your website.
A buyer ad, for example, would target the person who intentionally enters the keywords, "Homes for Sale in Cypress, Texas. The potential buyer would then see the ad that matched their search.
When they click on your ad, they are taken to your multiple property search page showing the current listings of homes for sale in Cypress, Texas. Of course, these homes would be actively for sale in the appropriate MLS.
MLS Multi-Property Search Page
Internet Data Exchange (IDX) is a data feed on the internet from your local Multiple Listing Service's (MLS) data service. A multi-property search page is a website page that displays the current properties that are listed for sale in a certain area by your MLS.
One Click Away
Once the potential lead is on your property evaluation or your multi-property search page, they are one click away from your capture page. An example of your capture page would look like the following…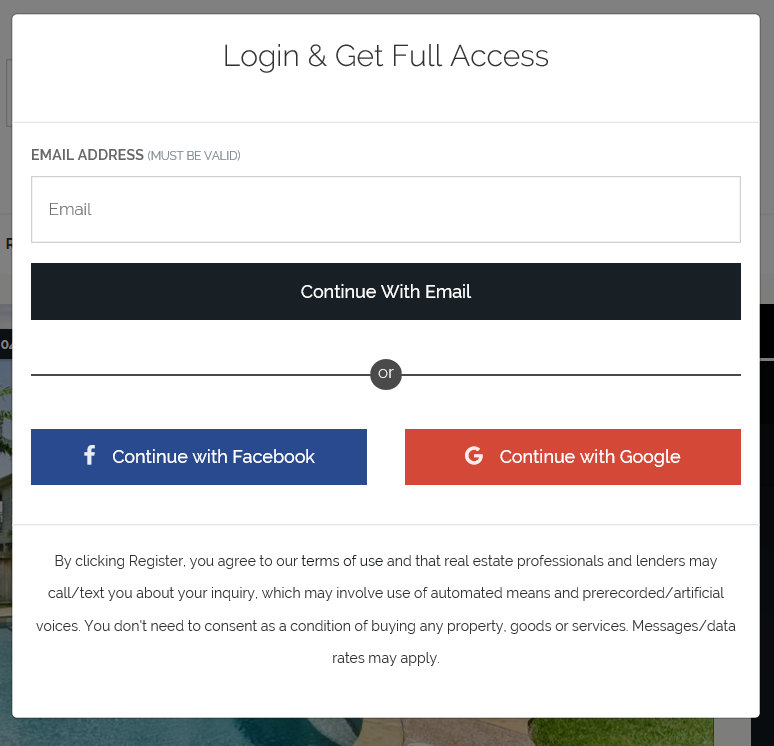 CRM
Once the lead's contact information is entered, two things happen simultaneously. The contact information is stored in your KVCore's customer relationship management (CRM) application. The visitor to your website will also be able to continue viewing and searching other property listings.
Nurture Campaigns
The autoresponder feature of KVCore would then kick-in. The autoresponder is a series of pre-scheduled e-mails and text messages that will be sent to your lead. The campaign should be congruent with your ad so that your potential client doesn't become confused.
The campaign could start immediately and continually run for several years. KVCore has a library of 23 pre-configured nurture campaigns. An example of a nurture campaign for a potential buyer client is depicted below. It shows the activity, which starts immediately when the lead enters their information, and runs for 90 days.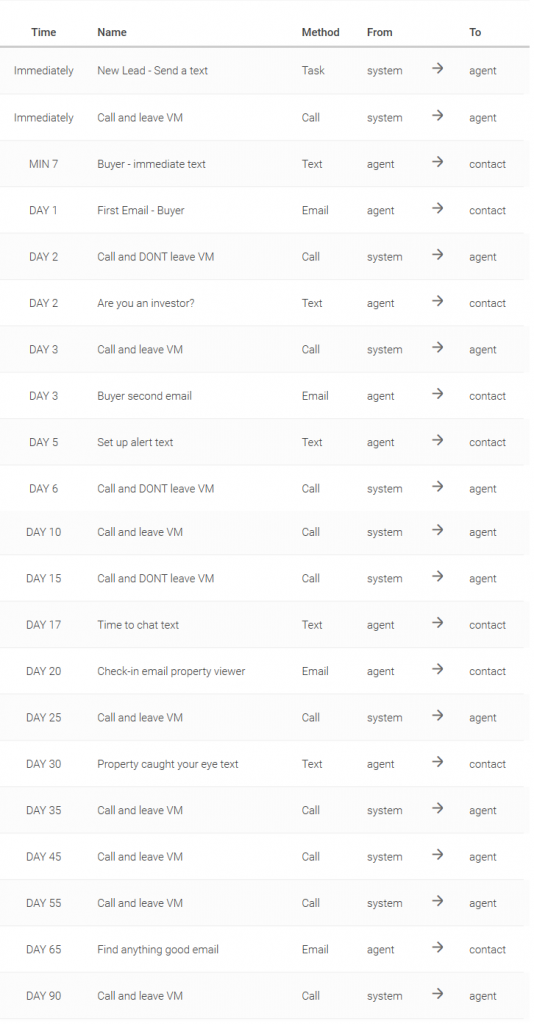 While the above example shows 90 days of activity, the campaign could and usually does continue for several years. Also since it is from the KVCore library of campaigns, you don't have to create it. You can, of course, tweak and customize the campaign for your specific ad campaign.
Make It Rain Summary
The make it rain program is an excellent lead generation program which allows eXp Realty agents and brokers to concentrate on what they do best: develop and serve clients. It takes the uncertainly and complexity out of generating and placing ads for agents.