Uncovering the Required Technology
In my previous blog, Automate your Open Houses, I showed how you can create QR codes so that you can capture the attendee's email address and phone number by scanning your QR code. In this blog post, I detail one best practice on how to capture an internet lead. You are then shown how to automatically take the lead through a series of automated contacts and follow-ups.
The steps required are shown in Image 1 below. The technology required for each step will also be provided. While this is not intended to be a comprehensive step-by-step manual, you will walk away from this blog with very good understanding of the steps involved.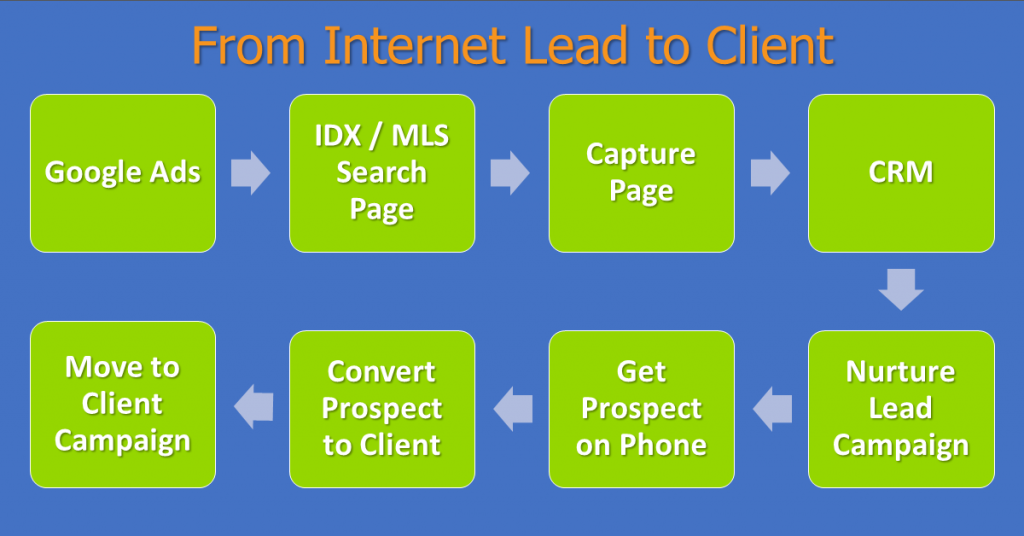 Google Ads
The first step is to create an internet ad. Of course, there various ways to place an ad on the internet, such as Facebook, YouTube, and Google. Then there is the rest of the internet, which is advertising on mobile apps and display advertising on websites. The type of ad used for this is example is Google Ads.
To run a Google ad, you first want to run ads to keywords that are actively searched daily. One of the best ways to know what keywords are being searched is to subscribe to KeywordsEverywhere.com. KeywordsEverywhere.com is a pay as you go service and is an add-on to the Chrome or FireFox browser. For example, at the writing of this blog you can purchase 100,000 keyword credits for $10 plus appropriate sales tax.
For a real estate agent looking for buyer clients, you might use the keywords, "Homes For Sale in Houston, Texas." KeywordsEverywhere.com will then show you similar keywords and how many times your initial keywords and suggested keywords were used over a running 12 month average. The cost per click and a relative competitive rate are also provided. Using this tool, you will be able to determine the best keywords or groups of keywords to use in your Google ad.
Once you have selected the keywords, you set up your ad in your Google Ads account. Here are some specifics for your ad:
The goal for your ad is Lead
The campaign is Search
The ways to reach your goal is Website Visits
Location is important for Real Estate. Use targeted locations from where people are moving from to your ad area
Set up ad groups per each location
Keywords are entered in the Set Up Ad Groups
IDX / MLS Multi-Property Search Page
Internet Data Exchange (IDX) is a data feed on the internet from your local Multiple Listing Service's (MLS) data service. A multi-property search page is a website page that displays the current properties that are listed for sale in a certain area by your MLS. For example if you run an ad for properties for sale in the zip code 77065, then your search page will list or graphically display the homes that are currently for sale in that zip code.
The URL address of that specific search page will be that URL that is used in your Google Ads.
There are various IDX websites that interface with your MLS. A simple internet search of "idx websites" will result in numerous options. If you have a Word Press site, you can also do a search on "idx word press plugins" and receive many examples.
Capture Page
The capture page is another page on your website. The display of a capture page or modal popup is usually triggered by a configurable number of property views a visitor to your website performs. Perhaps that number is three. Then on the third view the capture page popups up, requiring the visitor to enter their contact information such as name, e-mail address and phone number.
CRM
Once the information is entered, two things happen simultaneously. The contact information is stored in a customer relationship management (CRM) software application. The visitor to your website will be able to continue viewing and searching other property listings.
Again, if you have a Word Press website, then you can also determine what CRM packages are available that plugin to your WP site and integrates with your IDX. Simply, do an internet search on WordPress CRM plugins.
Nurture Lead Campaign
Many CRMs also are Auto Responders. That is, they have the capabilities of scheduling automatic email and SMS text campaigns. A nurture campaign is simply a template of multiple templates. Each template can be configured so that the campaign is congruent with the ad that was placed in Google Ads. This automation will allow you to nurture the lead through multiple contacts once they entered their contact information.
Final Steps
The goal of course is to meet with the lead and determine their needs and convert the lead into a customer. The conversion success is usually always in the follow up. An automated method as described here will allow you to concentrate on what you do best, which is helping clients sell or buy their home.