On August 29, 2019, Facebook announced that Messenger would now have an automated lead generation feature. With this feature advertisers can incorporate Facebook's "Send Message" ads. This automation achieves a milestone for business which advertise on Facebook to adapt to the way people prefer to buy. Businesses can also immediately enter into a conversation with their customers and prospects. Once the conversation is started, a third-party chatbot provider, such as ManyChat, can take over. At that point business can capture, qualify, and connect with the person clicking the Send Message button on the ad.
Traditional Method of Lead Capture
Today many real estate professionals and businesses rely on the more traditional method of capturing leads. This tradition is to place an ad on a social media platform, featuring something free. Typically the free give-away is a PDF, webinar training, or video based on the intended market's needs, desires, or wants.
To access that free offering, you are required to click on a "Learn More" button. By clicking, you are then sent to a capture page where an webform is presented. The webform typically requests you to enter your name, e-mail address, and sometimes a phone number.
Once your information is provided, two things happen in parallel. First, you are directed to another web page where the offer can be consumed. Secondly, your information is stored in a CRM database.
Subsequently, the CRM will begin a congruent, automated and customized drip or nurture campaign based on the ad. The campaign usually consists of a series of text, phone call, and e-mail follow ups. The type of follow ups conducted are dependent on the information you entered into the webform. Sales people are attuned to following up with you. Their main goal is to get you on the phone to start a conversation.
The traditional process flow of capturing a lead an internet lead is depicted in Diagram 1 below.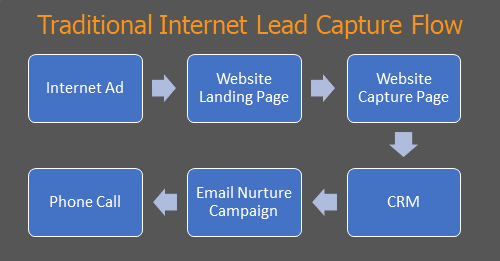 Replace Traditional Lead Capture with Chat Marketing *
With Facebook's announcement of automated lead capture and in conjunction with a chatbot, the time between lead capture, conversations, and follow up phone call is compressed. Companies can now expand their customer base by connecting and developing conversations with prospects and customers who are immediately interested in obtaining information upon arriving at the company's website.
* Chat marketing is what ManyChat calls this fairly recent type of marketing phenomena. David Cancel the CEO of Drift, a company that provides a comprehensive chatbot platform, details this marketing in his book, Conversational Marketing. ManyChat customers tend to be independent sales agents and small companies. Drift customers are more likely to be larger companies that can employ IT, sales, and marketing staff
With a Drift, the application resides on your company's web server. Another option is to combine the power of Facebook Messenger and a chatbot on your website. In either case, the chatbot lead generation flow is basically the same. Diagram 2 below shows this flow.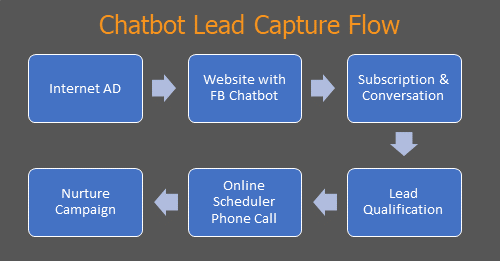 Real Estate Agents Should Take Notice
With the advancement of technology and with Facebook's announcement, real estate agents and brokers should take careful notice of the powerful combination of Facebook Messenger and a chatbot. Not only can an agent take advantage of entering into conversations with potential buyer and seller clients quicker with Facebook ads, they can also add Facebook Customer Chat capabilities on the agent's website.
A Facebook chat box and logo automatically appeared, asking you to begin to engage in a conversation.
Today, there are over 1.3 billion world-wide Facebook Messenger subscribers. What this means, is that when a client or prospect clicks on the Facebook Chat logo and subscribes to your chatbot, Facebook already knows who they are. Facebook recorded their information when they acquired a Facebook profile page and subscribed to Facebook Messenger. This means you will immediately know who they are, and your chatbot can begin to ask qualifying questions. The qualification questions can be as few or as many as you want, but the important thing to note is that your chatbot will filter to the most qualified leads for you.
Questions a chatbot can ask will vary, but the aim should be to qualify the visitor to your website. The following questions are not meant to be comprehensive, but only provided to give a few examples of what your chatbot can begin to ask:
Will you be buying or selling a home in the next 90 days?

If no, will you be buying or selling a home in the next 12 months? 24 months? etc.
If yes, are you working with an agent?

What area of town are you looking to buy?
Are you working with a lender?
Are you pre-qualified?
Are you a first time buyer?