Communication: Key to Obtaining Clients
Chatbots for real estate agents is a topic that is gaining momentum. This is because conversations are key to obtaining clients. Chatbots provide a marketing advantage over your competition because conversations are started quicker.
In my sales career, I have taken over a dozen courses on how to be successful in sales. Each course placed importance on getting in front of the prospect to learn their needs, wants, and desires. This understanding was essential to knowing their motivation to buy a product or service. So since I knew their why and provided a solution to address their specific need, want, or desire, I made the sale. My competitor did not.
Communication is equally important in real estate. It is the key factor to learning why a prospect would buy or sell a home. The more conversations you start, the more prospects you engage. The more you engage, the more clients you will develop.
This goes with out saying, but the conversation must start somehow and somewhere. Examples of beginning conversations include a casual meeting, a chance meeting, or though a social media encounter.
Traditional Lead Nurture Flow
The prospective client is not always ready to buy or sell a home. Usually they will indicate that they might be in the future. So to nurture the relationship, you enter them in your follow up system. If it has an autoresponder, then a series of e-mails are sent on a scheduled basis. Conventional practice suggests that after numerous e-mails have been sent, some of the initial contacts will eventually become a client. Diagram 1 below shows the typical communication flow.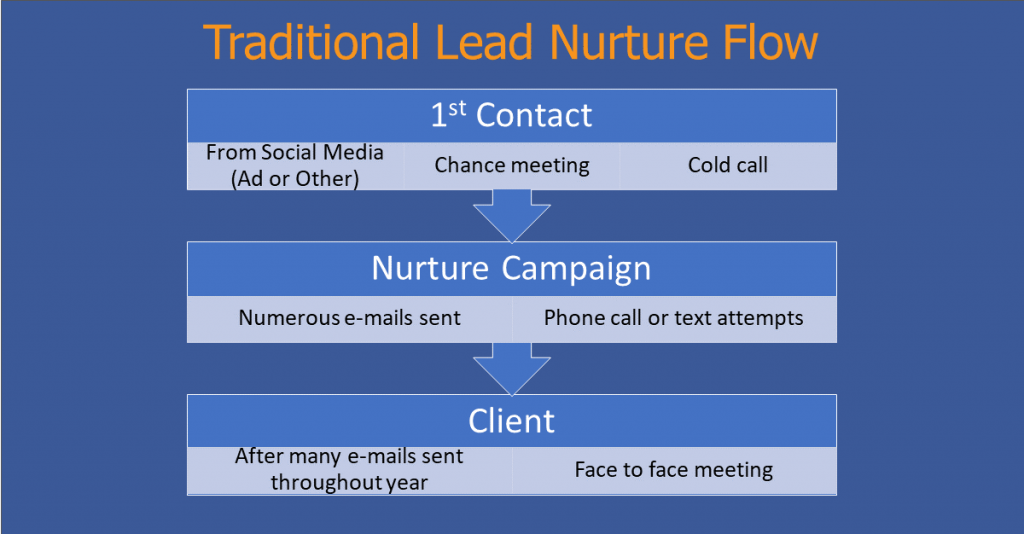 Many real estate lead generation systems focus on this nurture flow. E-mail tends to be the underlying communication medium used. Your lead is entered into a customer relationship management (CRM) system. E-mails are then automatically sent out on a scheduled basis. With lead generation systems using e-mail as the main autoresponder, this model should be effective. So to better understand the effectiveness of this process, e-mail open and click through rates (CTR) need to be examined.
E-mail Open Rates
E-mail open rates and click through rates are lower than you might suspect. MailChip, an e-mail marketing provider, analyzed these rates across all industries. The average open rate was 20.81%, and the average CTR was 2.43%. A study conducted by Epsilon found that average open rates across all industries was 33.5% range. The average CTR was 3.3%. Constant Contact reported average open rates of 14.79% and CTR of 6.99%. As a rundown, the open rates in the above studies range from 14.79% to 33.5%. The CTR extended form 2.43% to 6.99%. Table 1 below summarizes these rates.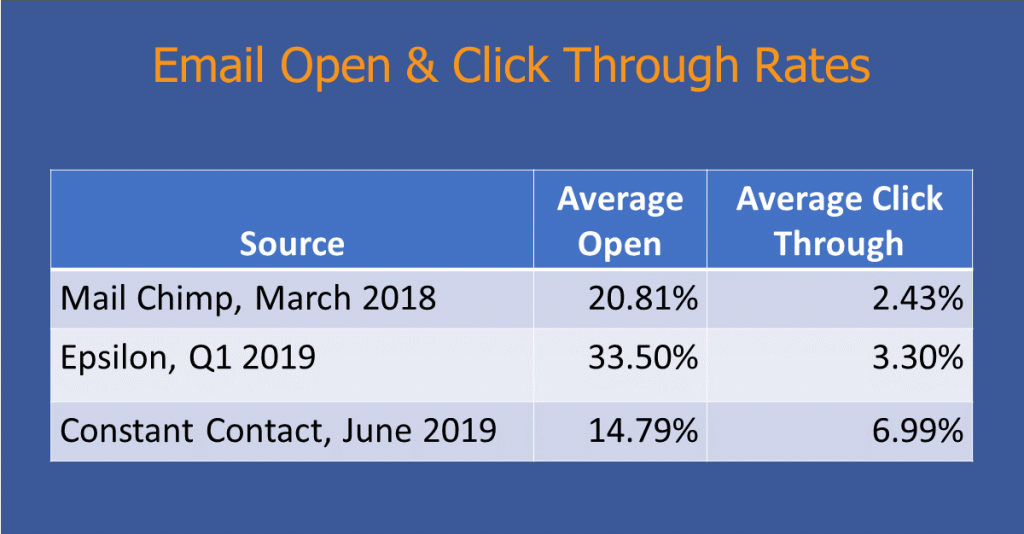 The fluctuation in these rates reported above are likely due to whether the marketer took careful attention and applied professional suggestions on how to get better rates. SuperOffice, an online CRM provider, provides great advice on how to get better open and click through rates. One suggestion SuperOffice cites is a post from Pinpointe Marketing. That is, the open rate could be improved by 15-35% just by using a personal name rather than a company name in the from email address.
An improvement of 35% is good, but what if there were a way to get rates as high as 2X or even higher? The good news is that there is a way. It is through implementing a chatbot into your marketing process.
Chatbot to the Rescue
A chatbot is a messaging platform that uses artificial intelligence to conduct a conversation, usually by a texting or a chat session between a computer and a human. A human can jump in and take the place of the computer responses and begin a live conversation. Chatbots can also start conversations in response to ads or when a visitor comes to your website. For more information on this, check out my earlier post on Automated Lead Generation for Facebook Messenger.
So how does chatbot open rates compare to the email open rates shown in Table 1? Chatbot stats are not as prevalent as e-mail stats. This is due to the relatively new emergence of messaging technology. However, chatbot stats are starting to appear, and demonstrate a bright future for chatbots as a communication medium for real estate agents.
According to a post by Kanav Kapoor, the open rates of chatbot messages were between 70% and 80%. ChatBots Magazine announced click through rates as high as 60%. NeilPatel reported open rates of 88% and an outstanding CTR of 56%. With a number of chatbot marketing campaigns that I conducted over the past two years, I saw open rates as high as 98% and CTR as high as 30%. These results are summarized in Table 2.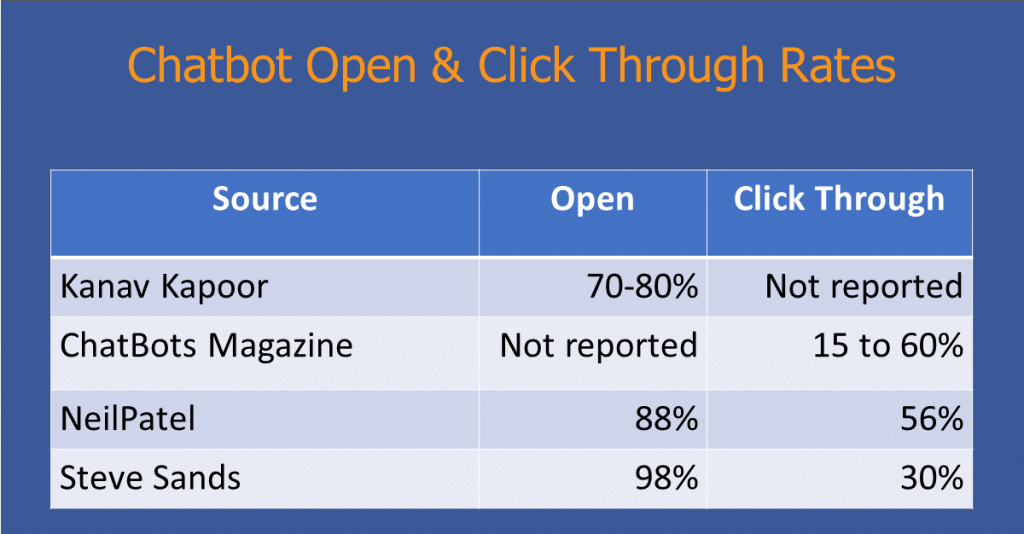 Conversational Marketing and the Real Estate Agent
Chatbots for real estate agents is actually what is now called conversational marketing. Several marketers are beginning to use the term, conversational marketing, when it comes to using a chatbot in your marketing operations. ManyChat and HubSpot now have blogs using this term. There is now even a book titled, Conversational Marketing.
An important benefit in employing conversational marketing in building your real estate prospect and client list is you now have the power to build relationships at much faster rate than you have with e-mail alone. You are no longer reliant on emails which have low open rates. You can now super charge your conversations and create clients faster. Using chatbots effectively, you gain a competitive advantage over your competition.