Bo Polny
Bo Polny spoke at the Reawaken America Tour held in Phoenix, Arizona, on January 14-15, 2022. His featured topic was The Future of Fiat Currency. You can see his entire presentation below.
Currency in Circulation
In the above video, Clay Clark introduces Bo Polny and references a St. Louis Federal Reserve's chart, tracking the amount of US currency in circulation. You will see that reference at 0:24 into the video. The chart is also depicted below.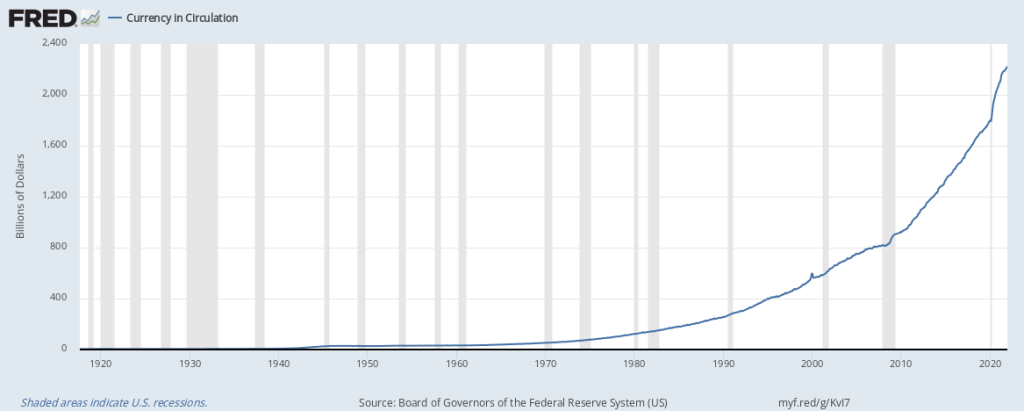 Polny's Presentation
If your interest is in Bible prophecy and how it relates to the current situation with our money supply, then you will want to watch Polny's 20-minute presentation.
If your interest is more about the title of his presentation, The Future of Fiat Currency, he begins to talk about the Federal Reserve Act of 1913 at 12:35.
He then speaks to what will happen to gold and silver derivatives at 14:45 and relates them to a biblical reference of a type of gold and silver being cankered or corroded (see James 5: 3) and their ultimate demise. His reference to the US dollar collapsing is at 16:03.
Then at the end of his presentation at 19:00, there is an interesting 12-ounce silver coin given away to an audience member. What an amazing gift!
David Morgan
From the strict perspective of a precious metals analyst, David Morgan of The Morgan Report is interviewed by Dave Russell from GoldCore TV. Russell starts out the interview with a very intriguing question as why Morgan believes silver is the most undervalued metal on the planet. You can see that entire interview below.
00:53 Silver is the most undervalued metal on the planet
01:51- Demand for Silver in 2022
04:54- Demand & Supply issues in the silver market
08:41- Silver as Store of Energy
12:36- Silver Outlook 2022
21:06- Correlation between stocks and precious metals
21:50- Will 2022 be a good year for precious metals?
25:05- Wrap up
Check out what I am doing
To check out what I am doing with silver, go to Steve's Silver Ventures.
Disclaimer
The above represents the opinion of Steve Sands, not only in terms of what each author has stated, but also his and based on the time of writing. Mr. Sands' opinions are his own and are not a recommendation or an offer to buy or sell securities, commodities and/or cryptocurrencies. As trading and investing in any financial market may involve serious risk of loss, Mr. Sands recommends that you consult with a qualified investment advisor, one licensed by appropriate regulatory agencies in your legal jurisdiction and always do your own due diligence and research when making any kind of a transaction with financial ramifications. Although Mr. Sands has an MBA with a concentration in finance, he is not a Registered Securities Advisor; therefore, Mr. Sands' opinions and analysis on the markets, including stocks, commodities and cryptocurrencies are his own and cannot and should not be construed as a solicitation to buy or sell.